Introduction:

What is Arachnophilia?
Arachnophilia is an HTML editor. It is what I refer to as a tag editor. Unlike FrontPage Express which has a WYSISWYG (What You See Is Sorta What You Get) interface, the main window of Arachnophilia more closely resembles that of Notepad. Rather than working with graphics and text laid out the way it will eventually look, Arachnophilia lets you work right with the HTML tags that make it all possible.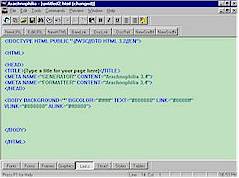 Of course, a knowledge of HTML is helpful for this approach, but not required, and if you read through these instructions I will teach you everything you need to know to use my toolbars.
Most of the common (and even some uncommon) HTML tags are available from the various toolbars that come with the program. The toolbars I have written supersede the default ones as they contain all the commands you will need to create stationery. All you need to do is press the appropriate button and then fill in any needed data.
What do these toolbars do?
The idea for these toolbars came to me one day while I was in the shower. There I was, in the midst of Lather / Rinse / Repeat, thinking about HTML editors, when inspiration struck: "Why don't I create some custom toolbars for Arach???"
The more I thought about it, the better the idea seemed. I was always losing track of where I saved my various stationery scripts, and which were the current versions. With the Arach toolbars, all my scripts would be in one place and they could be accessed with the click of a button.
Creating the toolbars took me quite a while as I hadn't actually used Arach in months, but once I re-familarized myself with the program I set to work. There were a few problems I encountered as Arach and Outlook Express didn't always work together nicely but once I solved those, the finished product was impressive (to me at least).
I found my toolbars to be so easy to use, that I thought others might like them as well, thus I wrote the instructions and put them on my website.
Response has been quite good - many people find these toolbars to be helpful. I continued to work on them and improve what I had and add more scripts. So you are now reading the instructions for the third version of my toolbars. Hopefully people will like this even better than the first two versions.

So, what do they actually do?
Well, they allow you to use Arachnophilia to create stationery. They optimize that program for stationery creation in a way that no other program can currently match.
Nearly every script that is in common use in stationery has been included here - as well as a few that aren't commonly used (I just thought they were neat <g>).
As well, with these toolbars, all your scripts and commands for creating stationery are only a button click away - no more searching for where you saved a certain script, or trying to remember the proper syntax for a certain HTML tag.
These instructions will give you all the information you need to be able to use the toolbars. Here you'll learn what each script and option does, as well as how to modify each of them to make them work the way you want.
I didn't include your favourite script? No problem, I'll also show you how to add scripts to the toolbars as well as how to make permanent changes to the existing ones.
Some of the features included are:
I hope you find them useful.
Where did the scripts come from?
One small disclaimer. I do not claim credit for creating these scripts. Some, I may have had a small part in, but the vast majority were acquired from the Stationery Newsgroup. I have made a note of the actual originator of a script for those where I know who the author was.