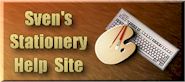 Click the logo to add
this site to your Favourites
---
Search:
---
Quick Links
---
Subscribe to my Newsletter
---
Books presented in association with:

---
Your Free E-Mail
Account:


---
Send me mail!

---

Colour Previewer
---
Instructions
Browse Colours & Fonts
Convert RGB to Hex
This utility is intended to allow you to preview various stationery colour and font combinations before you start working in your HTML editor. Choose your colours and fonts in the drop down lists at the top. Once a pleasing combination appears in the Preview box, the HEX and RGB values of the colours chosen appear in the boxes at the bottom. You can simply cut and paste these values into your HTML.
Also on this page is a small utility to quickly convet Red Green Blue values (such as those produced by your Image Editor) into Hexadecimal Colour codes for use in stationery. Simply enter your RGB values in the appropriate fields and the utility will convert it to Hex and also display your colour for you.
Note: Depending on which fonts you have installed on your system, some of those listed in the Font list may not display properly. The fonts listed are those installed by Windows 9x, Internet Explorer 4 & 5 (including the supplemental font packs) as well as a few other common fonts.
---
Colour Preview created by: sven
sven@earthling.net
---
Would you like to use this utility on your own site? Fine by me. You can simply click here to download it for your own use. Please preserve the link to me that I have placed in that file - that way if people have comments or suggestions they know who to contact.