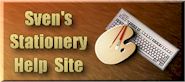 Click the logo to add
this site to your Favourites
---
Search:
---
Quick Links
---
Subscribe to my Newsletter
---
Books presented in association with:

---
Your Free E-Mail
Account:


---
Send me mail!

---

Stationery FAQ
---

On the pages listed below you will find instructions on how to accomplish many Stationery related tasks. Where appropriate I have provided instructions on how to accomplish these tasks in four different programs. These are: Notepad, FrontPage Express, FrontPage 98, and Arachnophilia. For FPE, FP98 and Arach it is assumed that you are using my free add-ons for each program - after all, why make things harder for yourself.
FAQ Contents: