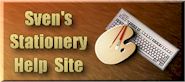 Click the logo to add
this site to your Favourites
---
Search:
---
Quick Links
---
Subscribe to my Newsletter
---
Books presented in association with:

---
Your Free E-Mail
Account:


---
Send me mail!

---

Arach Toolbars
---
If you read my page: What programs do I need (and if you didn't, shame on you...) you already know that I recommend getting a program called Arachnophilia. For those of you who took my advice and downloaded the program - Congratulations. If you haven't, then what are you waiting for??? Download Arachnophilia now - it's free! In addition to being a great program, making stationery using Arachnophilia just got a lot easier.
As part of my never-ending quest to bring stationery to the masses I have designed and written a series of custom toolbars and macros for Arachnophilia. Now everything you need to create stunning stationery is no further away than the click of a button. Some of the features I've included are:
Basic Stationery
Style-Sheets
Watermarks
E-mail Buttons
Sound (OE4 & OE5)
Left, Top & Right Borders
Left, Top & Right Margins
Marquees
Tables
Embedded Table Background
Bounce Script
Spaceman's Orbs
StatusBar Ticker
Clocks (2 varieties)
Typewriter Script
Blink Script
Scrolling Backgrounds
Embedded Fonts
Transitions
Random Quote Generator
and Many More...
Visit the Download Wizard to get the toolbars.
---
Now in the third version, my toolbars are even easier to use and more powerful than ever before. If you downloaded and used the first or second versions version, make sure you upgrade to the newest release, you won't want to miss this.
Full instructions on how to use the toolbars are included in the download. For those of you who want to look before you leap, you can now read the entire instructions online. The instructions will provide all the information you need to use my toolbars effectively. They even give you information on how to further customize the toolbars to suit your needs.
If there is something you would like to see included in my Arach additions that I haven't already done, let me know and I'll see what I can do about adding it to the next version. You can send me your suggestions by filling out my feedback form.